on Fri Jun 01, 2018 2:17 pm
Description -

The 107 is a small city car, with variations under the Peugeot, Toyota and Citroen badges. It has a 1L 3 cylinder engine developing 67BHP. I understand it's 3/4 of a Yaris engine. The car is created to sit within a price - cheap. But not nasty. There's a lot of glass with a large windscreen, and all-glass tailgate. It has those hinged rear windows left over from the 1970s (more about that later!); it does, however, have electric front windows. This example is in black; after giving it a quick wash this morning it turns out it's a metallic black. At the front the car wears a small car type grin, behind which the engine lives. For a 2007 car it doesn't look too dated at all; in my opinion it looks more up to date than a similar age VW Polo.

Interior -

The cloth interior is in really good condition - the seats are perfect, and there are just a few wear and tear marks on a couple of lower surfaces. The centre dial is small, giving speed and various warning lights, indicators etc etc. This one doesn't have the optional rev counter - a pod that ticks out from the top of the main dial - a bit like the ones on a Smart Car. It has a CD / Radio stereo with iPod type input socket - perfect for the yoooof and their music stuff. There is quite a long gear lever, with a fairly large throw between gears. The clutch is nice and light, but as there is no foot rest you have to rest your left foot below the pedal. My left foot has had a massive shock, suddenly being very important in the operation of the car, unlike in the Smart and XF.

Performance-

Well, yes; it does have a small amount. On paper it will do 0-60 in 14.3 seconds - fractionally faster than plate techtonics are moving the UK mainland away from Europe towards the USA. Proportionally (taking BHP into account), the 107 is quicker than the XFR to 60. As speed builds up the gears are really quite good - but you can barely hear the engine. Doing 40mph it's rather tricky to tell if it's in 3rd or 5th gear; putting your foot down makes little difference in either! Smooth progress can be made using the gears. At motorway speed all is quiet.

The brakes are actually quite good, despite the fact there's not a vast amount of speed to kill in the first place.

Over All -

It's a car produced to a price to be cheap to insure for young people. It enables them to safely get from A to B. It is a cheap car to run (Road Tax £20 per year), many are also owned by pensioners for the same reason.

A nice little car!

Pictures to follow.


PS - forgot to say - when washing it this morning one of the rear windows fell out! A quick call and a visit to the garage; the window was swapped with one on the other 107 they had in stock!
on Fri Jun 01, 2018 5:08 pm
Great review. I'd agree with a lot of that although I'm worried that one of our windows might fall out now! Bit if a strange one but pleased you got it sorted!
I'm really wishing ours had AC today, it's veritably roasting!
on Fri Jun 01, 2018 6:08 pm
20 pounds a year for tax.. wowsers.

The UK is moving towards the USA politically I guess. Italy at least have their own Adriatic plate they can boast about (their country is actually a plate I believe). Actually they are probably moving closer to Switzerland hence some Alps.

Good to know you are enjoying the car. I mean you actually washed it. I don't think I've washed mine apart from the wheels cause they have to go in the Keller....








on Fri Jun 01, 2018 6:39 pm
Good review, good car for a new driver

Lupo GTI next
on Fri Jun 01, 2018 7:19 pm
Sounds perfect as a first car.
on Sat Jun 02, 2018 6:19 am
Behold - the beast!!
Gave it a quick wash this morning - I think it has lived in the sticks going by the amount of mud in the wheel arches. I shall give it a machine polish at some point over the next few weeks.
I've ordered Joe a set of 107 genuine mats, and shall be showing him the oily bits he needs to check on a regular basis. Looking at a 107 / Aygo / C1 FB group, it seems the performance cannot really be upgraded (a good thing I feel for a car aimed at the yoooof!) An air intake mod will actually result in a reduction in power!
Just need to experiment with getting all 3 cars on the drive later today - collecting the XF from the garage this morning. After the window regulator failure the other day!!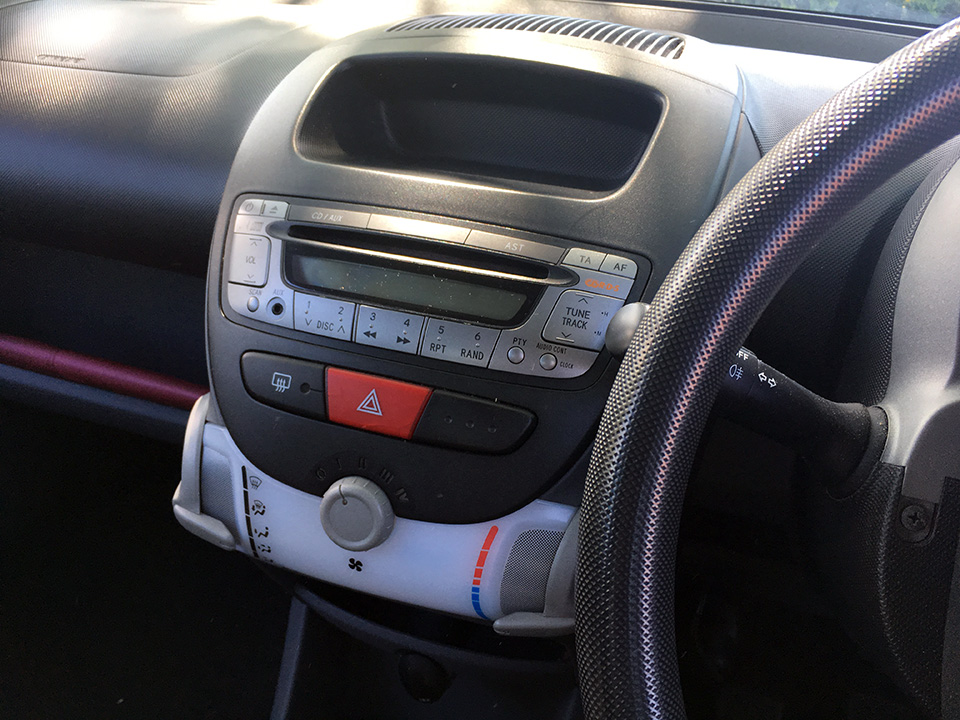 on Sat Jun 02, 2018 8:43 am
MegaCrixel wrote:Great review. I'd agree with a lot of that although I'm worried that one of our windows might fall out now! Bit if a strange one but pleased you got it sorted!
I'm really wishing ours had AC today, it's veritably roasting!
The bonding on the hinges, where they fit onto the glass, failed. Glad it did it on day 2, rather than 6 months time!

Permissions in this forum:
You
cannot
reply to topics in this forum