on Mon Jun 11, 2018 10:28 pm
Went down to see my sister the other day, came back this afternoon...
I had to drive her For Four and although I never went above 60mph, my mother was going nuts because I used manual gear change to pass a wagon going 35mph

On the journey back I used auto all the way.... Same speeds, just no revving (that engine loves to sing

) and not a peep!
My sister commented on the fact I drove slower than she ever does! However, I am used to the brakes on George, requiring a hefty shove to get some resistance on the discs. My sisters wee car requires no more than a cursory glance in the general direction of the braking pedal for it to stop so suddenly that you can be launched into a different dimension

Ho hum!
on Mon Jun 11, 2018 10:42 pm
Anyway, decided to go via The Bridge of Alvah. A route I haven't traversed in 40 years
The majority of the road was country lane. Then it got all farmer twat with ruts ten feet deep and pot holes the size of Russia
However, Susan coped really well and two miles of rutted shite later I happened upon the bridge, whereupon I stopped for a quick photo or three...
Whaddaya think, purdy or what?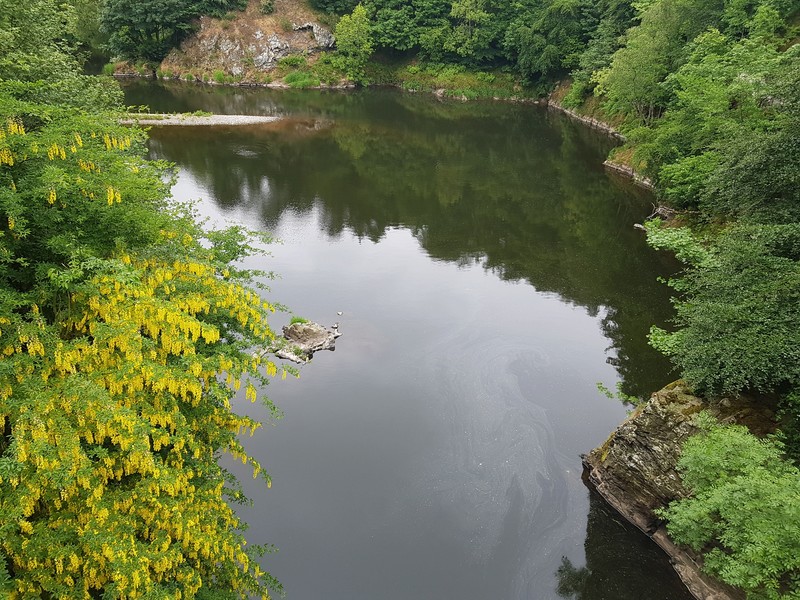 Brought back great memories of childhood. Then cross country to Huntly, through to Dufftown, then the Bluehill Quarry shortcut to Aberlour, then Glenlivet to Grantown on Spey, Dulnain Bridge to Carrbridge onto the A9 and home. Epic countryside
Fabulous run home
Sent from Topic'it App
on Tue Jun 12, 2018 2:07 pm
Looks like a nice part of the world.
on Tue Jun 12, 2018 3:09 pm
Teeps wrote:Looks like a nice part of the world.
It's hard to get to the way I came unless you have a 4x4 or are a mad fat mess on a bike

The rest of the route was a mile of bad road then onto the Huntly road which is fine.
Anyway, Alvah holds special memories as we all used to cycle there as a kid. A bunch of us camping and having a laugh...
Peaceful part of the world. I would move there and write novels

on Tue Jun 12, 2018 5:56 pm
I couldn't see the pictures at work so looked it up on google maps. The street view doesn't make it on to the track. But there were some excellent photos of around there and the bridge. It's a little tourist attraction as far as I could tell. Nice.




on Fri Jun 15, 2018 6:15 pm
i had a job up in Inverness yesterday, i was driving up, having been in Glasgow earlier in the week.......anyway, 30 miles short of inverness i took a detour on to the B9007 Carrbridge to Furness road.
needless to say, if they closed either end, it would be an absolutely perfect spot for a top gear-esque adventure..........fantastic road right through the mountains.
https://c1.staticflickr.com/8/7342/10150657834_ab38905962_b.jpg
(not my image) but it was like that for about 10 miles

Permissions in this forum:
You
cannot
reply to topics in this forum